Luxury SUVs are gaining in popularity these days, and there are an array of great options out there for you to consider. Two of the best vehicles in this category are the 2018 Jaguar F Pace and the 2018 BMW X5, and both have a lot to offer. If you've narrowed your list down to these two amazing vehicles, how do you know which way to go?
Here's a quick breakdown comparing 2018 Jaguar F Pace vs 2018 BMW X5.
Performance
The 2018 Jaguar F Pace comes standard with a 2.0-litre turbocharged four-cylinder engine and all-wheel-drive automatic transmission. This delivers up to 247 horsepower at 5,500 rpm and 269 pounds-feet torque between 1,200 and 4,500 rpm. In addition, the F Pace has a towing capacity of up to 1,997 pounds and a top speed of 135 mph with acceleration from zero to 60 in under seven seconds.
The 2018 BMW X5 comes standard with a 3.0-litre six-cylinder engine that delivers up to 300 horsepower at 5,800 rpm and 300 pounds-feet torque between 1,300 and 5,000 rpm. These aren't bad numbers until you consider that the F Pace is offering an almost equal performance by turbocharging a more efficient engine.
Fuel Economy
In terms of fuel efficiency, the 2018 Jaguar F Pace offers an attractive combined economy of 24 mpg. That breaks down to 26 mpg on city streets and up to 33 mpg on the highway. These are impressive numbers for a luxury vehicle of this size and can easily compare to the type of fuel economy you'd expect to find on smaller sedans.
The 2018 BMW X5, however, falls a bit short of these numbers. On city streets, you'll get up to 23 mpg on city streets and as much as 29 mpg on the highway. That may not seem like a big difference, but those additional 3 miles per gallon can really add up over time. What's interesting is the X5 would easily be able to compete with the F Pace had BMW chosen to include a more efficient standard engine option.
Luxury and Convenience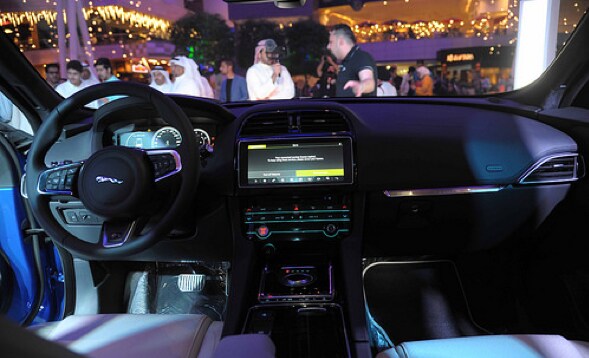 The 2018 Jaguar F Pace includes high-tech features such as:
Digital instrument panel with dynamic information display

Eight-inch control panel with connected feature integration

Stolen vehicle location services

A dynamic heads-up display

Premium sound system by Meridian
Not surprisingly, the 2018 BMW X5 compares very closely with the F Pace in this area, offering similar functionality across almost every category. In terms of included and available onboard technology, the 2018 Jaguar F Pace and the 2018 BMW X5 are very closely tied.
No matter which of these two vehicles you ultimately decide on, you're going to drive home in something you're sure to appreciate for many years to come. If you're interested in getting as much out of your hard earned money as you can, though, the 2018 Jaguar F Pace is the clear winner in terms of overall value due to the fact that you'll end up saving more money on gas through its superior fuel economy.
Make an Inquiry
Get Directions